Camera case foam is designed to provide cushioned protection for delicate camera equipment during storage and transport. Available in various types such as pick and pluck, custom cut, egg crate, closed-cell, and open-cell foams, each option offers unique benefits. The foam absorbs shocks and impacts, prevents scratches, and is customizable to fit specific gear. It also helps in maintaining the equipment's resale value by minimizing wear and tear. Opting for high-quality foam can be a cost-effective way to extend the lifespan of expensive camera gear.
Introduce of Camera Case Foam
Introduction
Importance of Protecting Camera Equipment
Protecting camera equipment is paramount for both professional photographers and hobbyists. A high-end DSLR camera, for example, can cost upwards of $3,000. Lens prices vary significantly, but a quality lens can easily be another $1,000 or more. In total, a professional photographer's gear can exceed $10,000, making protection a top priority. Moreover, camera equipment is sensitive to dust, moisture, and physical shocks, which can degrade image quality, or in extreme cases, render the camera inoperable.
Overview of Camera Case Foam
Camera Case Foam is designed to provide a snug fit for your photography gear, preventing movement and reducing the risk of damage during transit or storage. The foam is typically made of polyethylene or polyurethane materials, known for their lightweight, durable, and shock-absorbing properties. For example, a popular type of foam, closed-cell polyethylene, has a density of 2 to 3 lb/ft³ (32 to 48 kg/m³), which strikes a balance between lightweight and effective shock absorption.
This foam type provides excellent insulation with a thermal conductivity (k-value) of 0.033 W/(m·K), making it resistant to temperature fluctuations. Prices for camera case foam vary, but a pre-cut foam insert for a medium-sized camera case may cost around $50, while custom-cut options can go up to $200, depending on size and complexity.
Choosing the Right Foam for Your Case
Assessing Your Equipment Needs
Before purchasing, evaluate the total value and replacement cost of your camera equipment. Measure the dimensions of your gear: a standard DSLR body might have dimensions of 150 x 115 x 75 mm, while lenses can vary significantly in size from 50 x 70 mm (compact prime lens) to 85 x 175 mm (large telephoto lens).
Foam Density and Thickness
Foam density is a critical factor in the protection of your equipment. Common densities for camera case foam range between 1.7 lb/ft³ (27 kg/m³) and 3 lb/ft³ (48 kg/m³). A 2-inch (50 mm) thick foam layer is a common choice for significant shock absorption without adding excessive bulk or weight to the case.
Durability and Resilience
Pay attention to the foam's durability. Quality camera case foam should have a life expectancy of at least 5 years under regular use. Check for the Indentation Load Deflection (ILD) ratings, which can give you an idea of the foam's firmness and how well it will hold up over time. For camera cases, an ILD rating of 12-16 is typically sufficient for keeping equipment secure and protected.
Cost Considerations and Budgeting
Budgeting for Quality Protection
When budgeting for camera case foam, consider the potential savings on repairs and replacements for your valuable equipment. The average cost for camera repair, due to lens or body damage, can range from $100 to $300, making a $150 investment in quality camera case foam a cost-effective preventive measure.
Types of Camera Case Foam
Pick and Pluck Foam
Design and Functionality
Pick and Pluck Foam, also known as perforated foam, allows users to easily customize the shape by picking or plucking pre-scored sections to fit their equipment precisely. This design eliminates the need for cutting tools and typically has a depth of 1 to 5 inches, depending on the camera and accessory sizes.
Pricing and Value
This foam type typically ranges from $20 to $60, depending on size and density. The value lies in its simplicity and user-friendliness, allowing photographers of all skill levels to securely store their valuable equipment.
Custom Cut Foam
Precision and Specifications
Custom Cut Foam is professionally cut to the exact dimensions of your camera gear. For example, a cutout for a DSLR camera with dimensions of 150mm x 115mm x 75mm can be crafted with a tolerance of ±1 mm, ensuring a snug fit.
Cost and Time
The price for custom cut foam usually starts from $50 and can go up to $200 or more based on complexity. The process typically takes 1 to 2 weeks, including consultation, design, cutting, and shipping.
Egg Crate Foam
Characteristics and Usage
Egg Crate Foam is designed with a convoluted surface that resembles an egg carton. It is generally used as the top layer in a case and is excellent for cushioning. Standard thickness ranges from 1 to 3 inches.
Thermal and Acoustic Insulation
This foam has an average thermal conductivity of 0.035 W/(m·K) and offers superior acoustic dampening, making it ideal for transporting sensitive audio equipment in various climates.
Closed-Cell Foam
Durability and Lifespan
Closed-Cell Foam is known for its long lifespan, often up to 10 years or more under normal use. Its dense structure makes it resistant to water, dust, and chemicals, protecting sensitive camera equipment from harsh conditions.
Price and Specifications
For a 2-inch thick sheet with a density of 2 lb/ft³ (32 kg/m³), prices may range from $40 to $100. It offers superior rigidity and support, making it suitable for heavy and high-value equipment.
Open-Cell Foam
Flexibility and Impact Absorption
Open-Cell Foam is softer and more flexible than closed-cell varieties. It excels in absorbing impacts due to its lower density, usually between 0.5 to 1.5 lb/ft³ (8 to 24 kg/m³).
Cost and Environmental Considerations
Open-cell foam is generally more affordable, with prices starting as low as $15 for a standard sheet. It is also more breathable than closed-cell foam but is not water-resistant, making it less suitable for humid or wet conditions.
Benefits of Using Camera Case Foam
Shock Absorption
Efficient Energy Dissipation
Camera case foam, designed to dissipate energy efficiently, provides a cushion that protects gear from shocks and vibrations. For instance, closed-cell foam with a density of 2 lb/ft³ (32 kg/m³) can reduce impact forces by over 90% when dropped from a height of 4 feet (1.22 meters). This level of protection helps to ensure that sensitive components, such as lenses and sensor assemblies, remain unharmed during transport or accidental drops.
Cost Savings from Avoided Repairs
The use of shock-absorbing foam can save photographers significant repair costs. Without such protection, a single drop could result in a repair bill of $200 to $500, depending on the damaged components.
Customizable Protection
Precise Fit and Secure Housing
Custom-cut and pick-and-pluck foam options allow for precise customization to the exact dimensions of your camera and accessories, often to tolerances of ±1 mm. This ensures that each piece of equipment is snugly encased, minimizing movement within the case and further reducing the potential for damage.
Time and Ease of Customization
Customizing pick-and-pluck foam, for instance, typically takes less than 30 minutes and requires no special tools, making it an efficient and user-friendly option.
Dust and Moisture Resistance
Sealing and Insulation Properties
Closed-cell foam options offer excellent sealing and insulation, effectively blocking the entry of dust and moisture. For example, closed-cell polyethylene foam has a water absorption rate of less than 1%, maintaining the integrity of sensitive electronic components within the camera.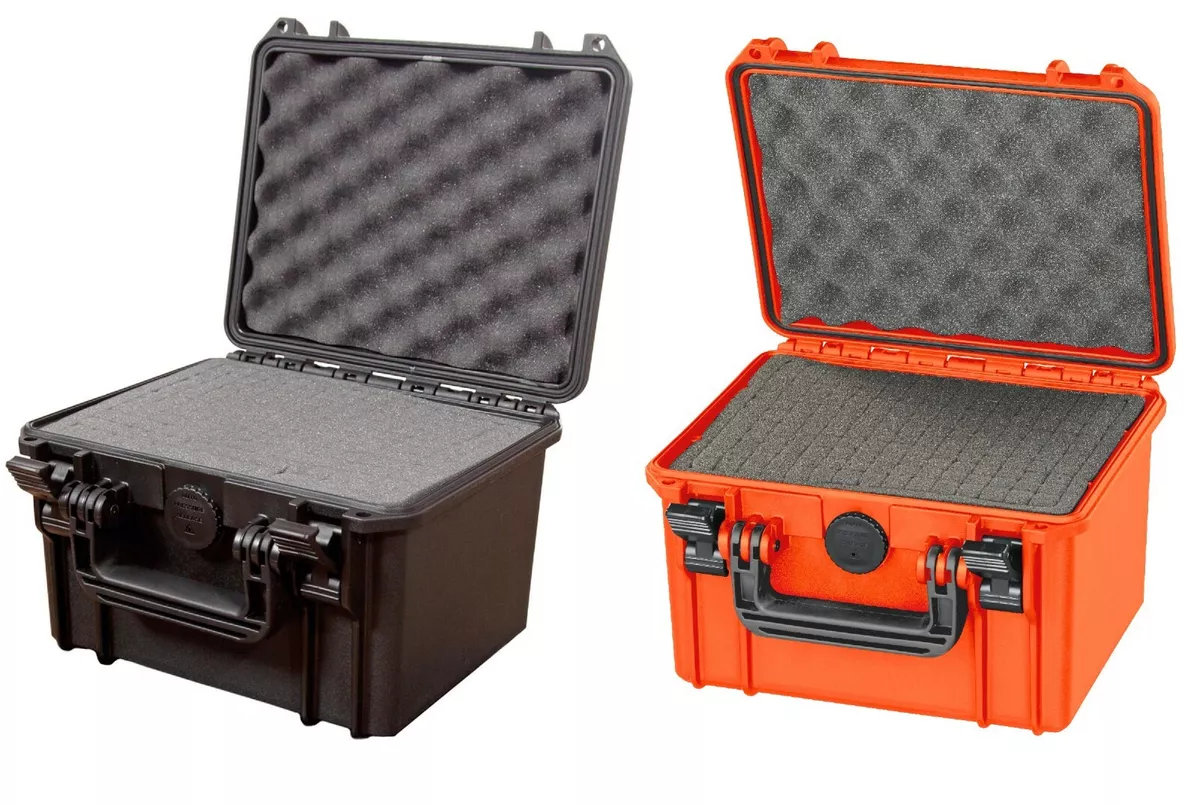 Climate and Environment Adaptability
Such resistance makes these foams ideal for use in a variety of climates, from humid tropical environments to dusty desert conditions, thus expanding the range of locations where photographers can securely transport their equipment.
Extended Equipment Lifespan
Preservation of Equipment Value
By shielding cameras and lenses from physical shocks, dust, and moisture, camera case foam helps to extend the lifespan of the equipment. For example, a camera protected with high-quality foam can maintain optimal functionality for over 10 years, compared to 5-7 years for an unprotected camera.
Long-Term Economic Benefits
This extended lifespan not only means photographers can use their gear for longer, but it also preserves the resale value of the equipment. Considering that a professional DSLR camera can cost upwards of $3,000, protecting this investment with a $100 foam insert yields substantial economic benefits over time.
Choosing the Right Foam for Your Case
Assessing Your Equipment Needs
Identify Equipment Dimensions and Weight
Before purchasing foam, measure the size and weight of each piece of camera equipment. For example, a standard DSLR camera might measure 150mm x 115mm x 75mm and weigh approximately 800g.
List Specific Protection Requirements
Enumerate what kind of protection your gear needs. If you frequently shoot in humid environments, consider moisture resistance as a key requirement. If your work involves a lot of travel, prioritize shock absorption to protect against the rigors of transit.
Foam Density and Thickness
Selecting Optimal Foam Density
Foam density, typically measured in pounds per cubic foot (PCF) or kg/m³, significantly impacts its cushioning properties. A medium-density foam, around 1.5 PCF (24 kg/m³), offers a balance between softness and support. High-density foams, 2 PCF (32 kg/m³) or higher, provide more rigid support and tend to last longer.
Calculating Required Thickness
Thickness of foam should correlate with the weight and delicacy of your equipment. For a DSLR camera and lens setup weighing around 5 pounds (2.27 kg), a foam thickness of 2 inches (5.08 cm) is commonly recommended for secure and snug fitting.
Durability and Resilience
Analyzing Material Lifespan and Quality
Look for foams like closed-cell polyethylene or polyurethane that are known for their durability. For instance, closed-cell polyethylene foam can last up to 10 years under regular use, making it a cost-effective option in the long run.
Considering Environmental Resistance
Choose a foam that stands up to the environmental conditions you most often work in. If you shoot in tropical climates, a closed-cell foam that resists water absorption (with a rate of less than 1%) and doesn't degrade under high humidity is essential.
Cost and Budget Implications
High-quality, durable foam might cost between $50 and $150, but considering the lifespan of the foam and the value of the equipment it's protecting (which can range from $1,000 to $5,000 or more), this cost is often justified as a wise, long-term investment.
Cost Comparison
Initial Purchase Price
Budget Options
For those on a tighter budget, basic foam options are available for around $20-$50. These foams are typically made of open-cell material, which offers basic protection.
Premium Options
For photographers looking for the best protection, premium closed-cell foams can range from $100 to $250, depending on the size and complexity of the design.
Lifetime Value Calculation
Long-Term Savings
Investing in high-quality foam can extend the life of your camera equipment by years, potentially saving thousands of dollars in replacement or repair costs. For example, a $200 premium foam can protect a $3,000 camera setup, effectively serving as a 6.7% safeguard on your investment.
Resale Value Impact
Quality foam inserts can help maintain the resale value of your camera equipment. For example, a camera and lens preserved in top condition due to superior foam protection can retain up to 80% of its original value after 5 years, compared to 50% for poorly protected equipment.
Time and Effort
Customization Process
Time Investment
Custom-cutting foam to fit your equipment precisely might take around 2-4 hours of your time but ensures the best protection. Pre-cut (pick and pluck) options typically take less than 30 minutes to set up.
Skill and Tools Required
Custom-cutting foam may require a sharp knife or a hot wire cutter, and a steady hand. Pre-cut foam is designed for ease of use, requiring no special tools or skills.
Maintenance
Cleaning and Care Time
Closed-cell foam is generally easier and quicker to clean, usually requiring just 10-15 minutes every few months with a mild detergent, while open-cell foam might require more frequent and thorough cleaning.
Quality and Precision
Material Quality
Open-cell Vs. Closed-cell
Open-cell foam is softer and more flexible but tends to absorb moisture, while closed-cell foam is more rigid and offers superior moisture resistance and durability.
Cutting Precision
Tolerance Levels
Professional custom-cut foam can offer tolerances as tight as ±1 mm, ensuring your equipment fits snugly and securely. Pre-cut options might not offer the same level of precision, but are often sufficient for general use.
What is camera case foam?
Camera case foam refers to a specialized type of foam padding used inside camera cases or equipment cases to provide cushioning and protection for cameras, lenses, and other photographic equipment.
What is the purpose of camera case foam?
The main purpose of camera case foam is to protect delicate and valuable camera equipment from impact, shock, and vibration during transport or storage. It helps prevent damage to the equipment by providing a cushioning layer that absorbs and distributes external forces.
What materials are camera case foams typically made from?
Camera case foams are often made from closed-cell foam materials such as polyethylene or polyurethane. These materials are lightweight, durable, and have good shock-absorbing properties.
What are the advantages of using camera case foam?
Impact Protection: Camera case foam effectively absorbs shocks and impacts, safeguarding the equipment from damage. Customization: Foam can be cut or shaped to fit specific equipment, ensuring a snug and secure fit. Organization: Foam inserts can have custom cutouts to organize and separate different pieces of equipment. Durability: Quality foam materials are long-lasting and resistant to wear and tear.
How is camera case foam customized for different equipment?
Camera case foam is usually provided in sheets or blocks. To customize it for specific equipment, you can use techniques like laser cutting or manual cutting to create cavities or cutouts that match the shape and size of your camera, lenses, and accessories.
Are there different foam densities available for camera case foam?
Yes, camera case foam is available in various densities. Higher density foam provides better protection against heavier impacts, while lower density foam might be suitable for lighter equipment.
What are some considerations for choosing camera case foam?
Equipment Weight: Heavier equipment may require higher density foam for better protection. Fragility: Delicate equipment might benefit from softer foam to avoid potential damage. Customization: Look for foam that is easy to cut and shape for customization. Budget: Foam quality and density can affect the cost.
Are there any downsides to using camera case foam?
Bulkiness: Foam can take up space, making cases bulkier. Wear over Time: With heavy use, foam may wear out and lose its shock-absorbing properties. Initial Cost: High-quality foam might have a higher initial cost.