An essential oil carrying case is a specially designed container for safely storing and transporting essential oil bottles. These cases come in various sizes and materials, ensuring oils remain organized and protected from direct sunlight, temperature fluctuations, and breakage. Ideal for both enthusiasts and professionals, they promote convenient and efficient use of essential oils on-the-go.
Introduction
What is an essential oil carrying case?
An essential oil carrying case, often referred to as an essential oil organizer, is a specially designed storage solution for essential oil bottles. Made with a variety of materials such as wood, nylon, or fabric, these cases typically feature compartments to hold individual bottles, ranging in sizes from small 5ml to larger 30ml containers. They are often zipped or clasped shut for security.
The importance of storing essential oils properly.
Storing essential oils in a proper manner is crucial to maintain their potency and longevity. Exposure to sunlight, for instance, can degrade the quality of the oil, reducing its shelf life. Essential oils can be volatile; hence, they evaporate if not sealed correctly. Storing them at the right temperature, ideally between 15°C to 25°C, and away from direct sunlight, ensures they retain their therapeutic properties longer.
Benefits of Using an Essential Oil Carrying Case
Protecting the Integrity of the Oils
Physical Protection
A carrying case protects your essential oil bottles from potential physical harms such as falls, knocks, or external pressure. For instance, a hardshell case can withstand an impact of up to 10kg without the bottles inside being affected, ensuring that the delicate glass containers remain intact even if accidentally dropped.
Protection from Light
Exposure to sunlight can degrade the quality of essential oils. Most carrying cases use opaque materials, blocking out 99% of UV rays, thus maintaining the oil's potency and efficacy.
Temperature Regulation
A quality carrying case provides insulation, maintaining a steady internal temperature between 15°C to 25°C, ensuring oils don't evaporate or lose their therapeutic properties. Some high-end cases even offer temperature control features, giving you more precise control over the storage conditions.
Convenient Portability for On-the-Go Use
Compact Design and Lightweight
Most carrying cases for essential oils feature a compact design, with dimensions often around 20cm x 15cm x 10cm, allowing them to fit conveniently into bags or luggage. Weighing typically less than 500 grams, they are easy to carry around, making them suitable for travel or daily use.
Secure Closure Mechanisms
To prevent spillage, quality carrying cases employ zippers, clasps, or magnetic closures that ensure bottles remain tightly packed and upright during transport. Some models even have lock features for added security.
Organized Storage for Multiple Oil Bottles
Customizable Compartments
For instance, you can have spaces dedicated for 5ml, 10ml, or 30ml bottles, ensuring every bottle, regardless of its size, fits snugly.
Labeling and Indexing
Some carrying cases include label slots or transparent pockets, enabling users to categorize and label their oils. This makes it quicker to locate specific oils, especially beneficial when you have a collection of 30 oils or more.
Types of Essential Oil Carrying Cases
Hardshell Cases
Materials and Design
Hardshell cases commonly use robust materials like polycarbonate or ABS plastic, ensuring maximum durability. The internal compartments frequently feature foam or velvet linings to protect the bottles from shocks and collisions.
Features and Benefits
Safety: These cases offer a high level of protection. Even if you drop the case from a height of 1 meter, the shock absorption ensures that the bottles remain intact.
Temperature Regulation: The solid exterior acts as a barrier against temperature fluctuations, maintaining the oils at an optimal 20°C on average.
Capacity: Hardshell cases come in various sizes, holding anywhere from 5 to 100 bottles. The compartments can range from 5ml to 30ml in size.
Price: Depending on the brand, material, and size, prices range from $30 to $150.
Soft Fabric Pouches
Materials and Design
Soft fabric pouches typically use materials like cotton, nylon, or canvas. They offer a blend of flexibility and protection, making them suitable for personal use or light travel.
Features and Benefits
Flexibility: Being soft-bodied, these pouches can squeeze into tighter spaces in bags or luggage.
Lightweight: They typically weigh less than 200 grams, making them convenient for daily use.
Capacity: Fabric pouches generally hold between 5 to 20 bottles.
Price: These are generally more affordable, with prices ranging from $10 to $40.
Wooden Boxes
Materials and Design
Crafted primarily from woods like pine, mahogany, or bamboo, wooden boxes combine aesthetic appeal with sturdiness.
Features and Benefits
Aesthetic Value: They are often beautifully crafted, sometimes with intricate designs or carvings, making them a centerpiece of any room.
Natural Insulation: Wood provides natural insulation, maintaining an average temperature of around 22°C inside.
Capacity: Depending on the design, wooden boxes can house anywhere from 10 to 60 bottles.
Price: Depending on wood type and craftsmanship, prices range from $40 to $200.
Roller Ball Cases
Materials and Design
These are tailored for roller ball essential oil bottles, made from various materials like leather, nylon, or even hard plastics.
Features and Benefits
Specialized Design: Tailored slots accommodate the elongated design of roller bottles.
Compactness: Often designed for on-the-go use, these cases are generally compact, with dimensions around 15cm x 10cm x 5cm.
Capacity: They generally accommodate 10 to 30 roller bottles.
Price: Depending on the material and brand, prices vary from $15 to $60.
Materials Used in Making Carrying Cases
Natural Materials
Wood
Types: Common types include pine, mahogany, and bamboo. Each type offers unique grain patterns and colors, adding to the aesthetic appeal.
Durability: Typically, wooden carrying cases can last up to 10 years with proper care.
Cost: Due to the craftsmanship involved, wooden cases tend to be priced higher, often between $40 to $200.
Temperature Insulation: Wood acts as a natural insulator, maintaining internal temperatures around 22°C on average.
Eco-friendliness: Being a renewable resource, wood presents an environmentally friendly option.
Cotton
Flexibility: Cotton provides a soft and flexible material, perfect for pouch designs.
Durability: With regular use, cotton cases can last anywhere from 3 to 5 years.
Cost: Cotton cases are generally affordable, priced between $10 to $30.
Breathability: Cotton is known for its breathability, allowing for better air circulation and preventing mold growth.
Eco-impact: Being biodegradable, cotton is environmentally friendly but its farming can be resource-intensive.
Linen
Strength: Linen is known for its strength and durability, often outlasting cotton.
Durability: A linen case can last for up to 7 years, even with daily use.
Cost: Due to its quality, linen products can range from $15 to $50.
Natural Look: Linen offers a textured, rustic appearance, preferred by those seeking an organic look.
Eco-considerations: Linen, derived from the flax plant, consumes less water than cotton, making it more eco-friendly.
Synthetic Materials
Plastics
Types: ABS plastic and polycarbonate are popular choices due to their strength and flexibility.
Durability: Plastic cases can last up to 5 years or more, depending on usage and quality.
Cost: Plastic cases are relatively affordable, with prices ranging from $20 to $100.
Protection: Provides excellent physical protection against impacts and external pressures.
Eco-impact: Plastics are non-biodegradable and can pose environmental concerns.
Nylon
Strength: Nylon is known for its strength, resistance to abrasion, and durability.
Durability: Nylon cases can endure for up to 8 years with consistent use.
Cost: Depending on the design and brand, nylon cases cost between $10 to $60.
Weather-resistance: Being water-resistant, nylon cases offer protection against moisture.
Eco-factor: While durable, nylon is a petroleum-based product and is not biodegradable.
Polyester
Attributes: Polyester is resilient, lightweight, and can be combined with other materials to enhance durability.
Durability: With proper care, polyester cases can last for 6 to 8 years.
Cost: Generally, polyester cases range from $10 to $50.
Maintenance: Polyester is easy to clean and resistant to most chemicals, making maintenance a breeze.
Eco-aspect: While polyester is recyclable, it's derived from petrochemicals and is non-biodegradable.
Size & Capacity Considerations
Small Cases (5-10 bottles)
Design and Dimensions
Small cases are designed with portability in mind, often having dimensions of approximately 10cm x 8cm x 4cm. These compact sizes allow them to easily fit into handbags, gym bags, or even large pockets.
Ideal Use Cases
Travel: For those who have a few favorite essential oils they can't travel without.
Daily Use: Perfect for individuals who use essential oils throughout the day, be it for aromatherapy or personal use.
Price Range: Given their size, these cases are often the most affordable, ranging from $5 to $40 depending on the material and brand.
Limitations
Due to the limited capacity, these might not be ideal for those with a diverse collection of essential oils.
Medium Cases (11-30 bottles)
Design and Dimensions
Medium cases strike a balance between portability and capacity. They usually measure around 20cm x 15cm x 6cm. These are suitable for those who have a growing collection of essential oils.
Ideal Use Cases
Workshops & Seminars: For aromatherapists or enthusiasts attending workshops, this size allows them to carry a diverse range without being overly bulky.
Extended Travel: For vacations or business trips where a variety of oils are desired.
Price Range: Depending on the design, material, and brand, medium cases are priced between $15 to $70.
Prospects
These are ideal for individuals who've moved beyond the beginner stage in their essential oil journey but aren't yet at the point of owning a massive collection.
Large Cases (31+ bottles)
Design and Dimensions
Large cases are the behemoths of the essential oil storage world, often measuring upwards of 30cm x 20cm x 10cm. They cater to avid enthusiasts or professionals.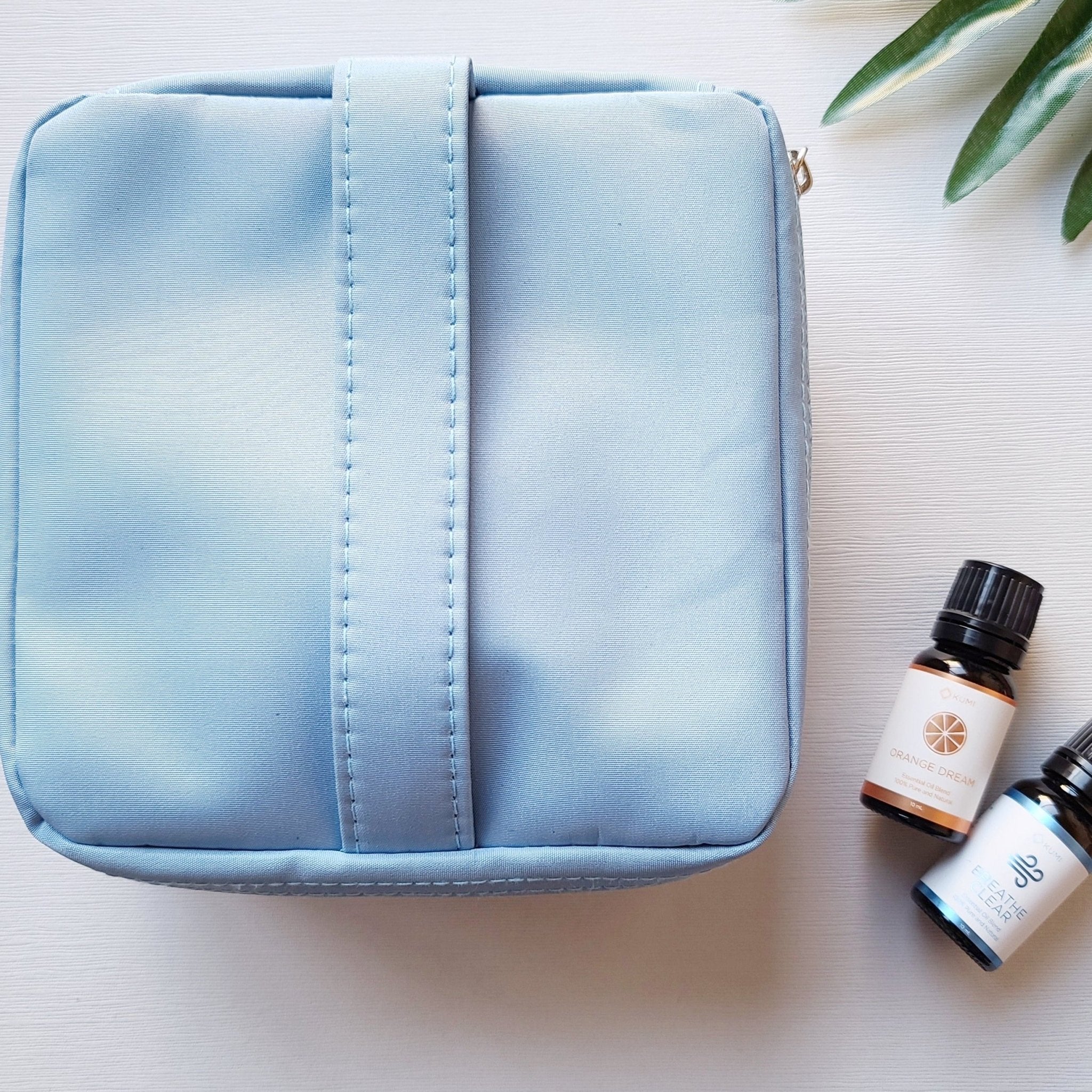 Ideal Use Cases
Professional Aromatherapists: Those who practice aromatherapy professionally need a broad spectrum of oils at their disposal.
Retailers & Sellers: For displaying a wide range of products to potential customers.
Price Range: Given their capacity and often enhanced features, these cases range from $40 to $150.\
What is an essential oil carrying case?
An essential oil carrying case is a specialized container designed to safely store and transport essential oil bottles. It helps protect the bottles from breakage and preserves the oils' quality.
What materials are commonly used to make these cases?
Essential oil carrying cases are often made from materials like durable fabric, hard-shell plastic, or natural wood, offering varying levels of protection and aesthetics.
What are the advantages of using an essential oil carrying case?
Carrying cases provide protection, organization, and easy access to essential oils. They help prevent spills, maintain bottle integrity, and allow users to conveniently carry their favorite oils while on the go.
How many bottles can a typical carrying case hold?
A standard essential oil carrying case usually holds anywhere from 10 to 30 bottles, depending on its size and design.
Are there different sizes or specifications available?
Yes, carrying cases come in various sizes and specifications to accommodate different bottle sizes, from small sample vials to larger bottles.
What is the lifespan of an essential oil carrying case?
The lifespan varies based on the quality of the case and its usage. A well-constructed case can last for several years, especially if it's handled with care.
Do carrying cases have any drawbacks?
One drawback might be the cost, as high-quality cases can be relatively expensive. Additionally, larger cases might take up more space in your bag.
How do costs vary for essential oil carrying cases?
The cost of carrying cases varies depending on factors like material, size, brand, and capacity. On average, a good-quality case can range from $15 to $50, while premium or designer options can go above $100.