An essential oil storage case is a specially designed container used to organize, protect, and transport essential oil bottles. These cases vary in size and capacity, ranging from small, portable pouches for personal use to large, compartmentalized boxes for professionals. They are commonly made from materials such as wood, metal, plastic, or fabric, each offering different levels of protection and aesthetics. Many cases feature secure locks, airtight seals, and customizable dividers to accommodate bottles of different sizes.
Introduction
In the world of aromatherapy, essential oils are precious commodities. These oils, extracted from plants, carry the essence, scent, and therapeutic properties of the plant.  Here, we dive deep into the world of essential oil storage cases, designed to protect these precious oils.
Importance of Proper Essential Oil Storage
Proper storage of essential oils is paramount to maintaining their quality, potency, and lifespan. The primary factors affecting the quality of essential oils include light, heat, and air. Essential oils should ideally be stored at a temperature of 60-75°F (15-24°C) to preserve their therapeutic properties.
Temperature Stability: Storing essential oils at a consistent temperature helps prevent the oils from deteriorating. For example, a high-quality storage case could maintain an internal temperature of 68°F (20°C), regardless of external fluctuations.
Cost Savings: Proper storage can extend the life of your essential oils, thereby reducing the need to replace oils that have degraded. Assuming an average cost of $20 per bottle, proper storage could save an estimated $200 annually for a collection of 30 oils.
Quality Preservation: With proper storage, the essential oils can retain their quality for 3-6 years, depending on the oil. This is critical as quality affects the therapeutic benefits of the oils.
Here is a simple calculation for cost savings: If one bottle of essential oil costs $20, and improper storage causes you to replace 5 bottles per year, that's an annual loss of $100. A high-quality storage case that costs $50 and lasts for at least 5 years turns out to be a wise investment.
Overview of Essential Oil Storage Cases
Essential oil storage cases come in various materials, sizes, and designs. Each type of case has its own set of features that cater to different needs and preferences.
Materials and Quality: The cases are generally made of wood, metal, or hard plastic. A wooden case made from high-quality pine or bamboo may cost around $40-$70, depending on size and craftsmanship.
Sizes and Specifications: Essential oil cases come in various sizes. A small case might hold 10 bottles and measure 7x5x3 inches, while a large case could hold up to 100 bottles and measure 14x11x4 inches.
Functionality and Design: Some cases are designed with removable dividers, allowing customization of the internal space. They may also have a lock and key for security, and some have handles for portability.
Price Range: Generally, essential oil storage cases can range from $20 to $100, depending on material, size, and additional features.
Types of Essential Oil Storage Cases
Wooden Cases
Wooden essential oil storage cases blend functionality with aesthetic appeal. Typically constructed from bamboo, pine, or cedar, they are naturally durable and insulating.
Material and Quality: High-grade pine cases are resistant to decay and provide excellent insulation to maintain the oils' potency. A high-quality wooden case might cost between $40 and $80.
Size and Specifications: A common size for wooden cases is 10x7x4 inches, which holds around 30 bottles. Larger models, holding up to 100 bottles, might measure 14x11x4 inches.
Temperature Stability: Wood acts as a natural insulator, helping to maintain a consistent internal temperature of around 68°F (20°C).
Design Features: Many wooden cases feature carved designs, metal latches for security, and compartments for various bottle sizes.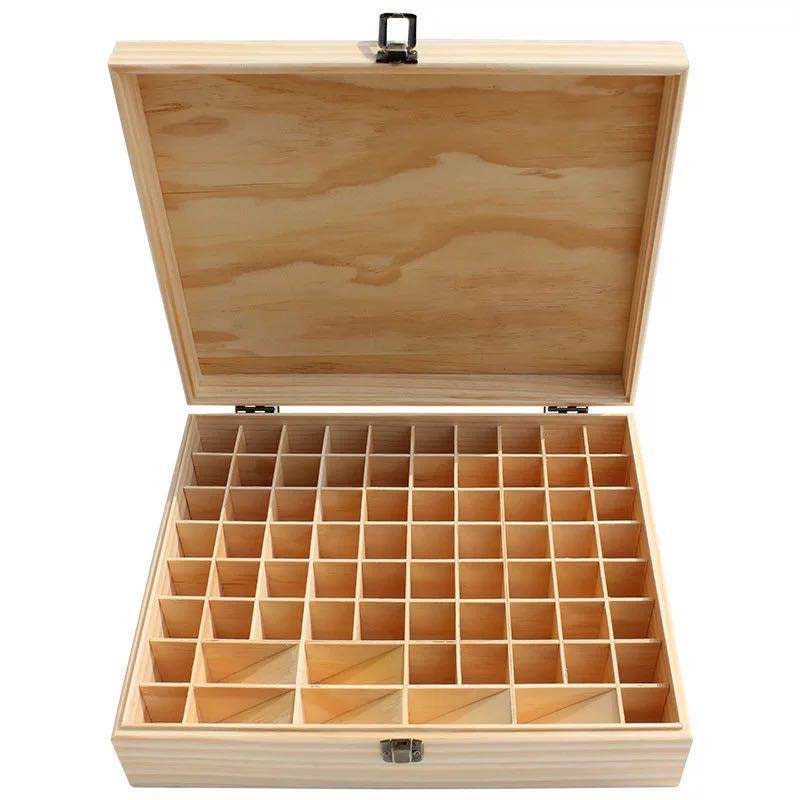 Hard Shell Cases
Hard shell cases, often made from durable plastics or metals, offer robust protection for essential oils, especially during travel.
Material and Quality: High-density plastic cases are generally lightweight and resistant to impact. A top-tier hard shell case may cost between $30 and $60.
Functionality: They often come with foam inserts that snugly hold each oil bottle, preventing breakage during transit.
Size and Specifications: A typical hard shell case might hold 20 bottles and measure 8x6x4 inches.
Protection Level: These cases offer superior protection against physical damage due to their rigid structure.
Soft Pouch Cases
Soft pouch cases, usually crafted from fabric materials like neoprene or cotton, offer a lightweight and flexible storage option.
Material and Cost: Neoprene cases are water-resistant and lightweight. A quality neoprene case might be priced around $15-$30.
Size and Portability: Common sizes for soft pouch cases might hold 10 bottles and measure 6x5x2 inches, making them highly portable.
Functionality and Design: These cases usually feature zippered pockets and elastic slots to secure each bottle.
Travel Cases
Designed for portability and convenience, travel cases for essential oils are compact and often come with carrying handles or straps.
Material and Durability: Materials like nylon are commonly used for their durability and resistance to wear and tear. A premium travel case may range from $20 to $50.
Size and Specifications: A typical travel case designed to hold 15 bottles might measure 7x5x3 inches.
Design and Functionality: They often have padded dividers, zippered compartments, and a handle or strap for easy carrying.
Travel Efficiency: Their compact design allows for efficient packing, saving valuable luggage space when traveling.
Material Considerations
When choosing an essential oil storage case, the material is a critical factor. Different materials come with varying costs, durability, and preservation effectiveness for essential oils. Below, we delve into the major materials used in the construction of essential oil storage cases: wood, plastic, and metal.
Pros and Cons of Wood, Plastic, Metal, etc.
Wood
Pros:

Durability and Longevity: High-quality woods, such as bamboo or cedar, can last for decades. For instance, a cedarwood case might have a lifespan of 20 years.
Natural Insulation: Wood has excellent thermal insulation properties, keeping oils at a stable temperature, ideally around 68°F (20°C).
Aesthetic Appeal: Wooden cases often have a classic, elegant design.

Cons:

Cost: High-quality wooden cases can range from $40 to $80, making them potentially more expensive than plastic or metal cases.
Weight: Wooden cases are generally heavier, with a typical case weighing around 5 lbs (2.3 kg).
Plastic
Pros:

Lightweight: Plastic cases are generally lighter, often weighing less than 2 lbs (0.9 kg).
Cost-Effective: These cases are often more affordable, with prices ranging from $20 to $50.

Cons:

Potential Chemical Leaching: Some plastics might interact with essential oils over time, which could potentially affect the oils' purity.
Lower Insulation Capacity: Plastic does not insulate as effectively as wood, which could lead to more significant temperature fluctuations inside the case.
Metal
Pros:

Durability and Security: Metal cases, often made of aluminum, are hardy and secure, typically with lock and key features.
Moderate Insulation: Metal cases can offer a decent level of insulation, helping to maintain an internal temperature of around 70°F (21°C).

Cons:

Cost: A quality metal case might range from $40 to $70.
Potential for Dents and Scratches: Metal cases can show wear and tear more visibly than other materials.
Material Safety and Essential Oil Preservation
When storing essential oils, safety and preservation are paramount. The chosen material should not react with the oils, thereby maintaining the purity and therapeutic properties of the oils.
Non-reactive Materials: Glass inserts or lined compartments can help prevent material-oil interactions, thereby preserving oil integrity. For example, a case might feature glass compartments, which are chemically inert, ensuring no leaching occurs.
Temperature Stability: Materials with good insulating properties, such as wood, help maintain a constant internal temperature, preserving the oils' efficacy and extending their shelf life.
Cost for Safety Features: Adding non-reactive lining or compartments to a case may increase its cost by approximately $10 to $20.
Size and Capacity
The size and capacity of essential oil storage cases are critical considerations. These range from small cases, designed for personal use, to large cases that can accommodate a professional's extensive collection. Let's delve into the details of these categories:
Small Cases (1-10 Bottles)
Design and Dimensions
Small cases are designed to be portable and convenient. A typical small case might measure 6x5x2 inches.
Material and Cost
Many small cases are made of soft, lightweight materials such as neoprene or fabric. These cases are generally cost-effective, with prices ranging from $10 to $25.
Functionality and Usage
Small cases are ideal for personal use or travel. They are designed to hold 1 to 10 bottles, which allows users to carry a select range of their favorite oils.
Medium Cases (11-30 Bottles)
Design and Dimensions
Medium cases often measure around 10x7x4 inches.
Material and Price
Medium cases come in a variety of materials, including wood, plastic, and fabric. The price for a quality medium case generally ranges from $30 to $60.
Storage Features and Lifespan
With compartments designed to hold 11 to 30 bottles, these cases often feature padded inserts for extra protection. A quality medium case can last for over 10 years with proper care.
Large Cases (31+ Bottles)
Design and Dimensions
Large cases are designed for serious essential oil enthusiasts or professionals. Typical dimensions might be 14x11x4 inches.
Material and Budget
Large cases are often constructed of high-quality, durable materials like wood or metal. Given the quality and capacity, these cases tend to be more expensive, ranging from $60 to $150.
Special Features and Value
These cases often have advanced features, such as lock and key security, designated sections for different oil types, and sometimes even temperature and humidity control. Their design aims to preserve and protect a large collection of oils, often more than 31 bottles, which can represent a significant investment for the user.
Economic Considerations
While large cases can be a significant upfront investment, they can also be seen as a valuable asset for serious enthusiasts or professionals who have invested heavily in their oil collection.
Features to Look For
When choosing an essential oil storage case, there are several critical features to consider. These can affect the safety, organization, and portability of your essential oil collection.
Security (Locks and Seals)
Types of Locks and Cost
A key lock, combination lock, or a secure clasp can keep your essential oils safe and secure. Key locks are common and usually come with two keys. The cost for a case with a built-in lock often ranges from $40 to $100. Combination locks offer the benefit of keyless security.
Importance of Seals
Quality seals, often made of silicone or rubber, ensure that the case is air and water-tight, preserving the integrity of the oils and preventing leaks. This feature is vital if you plan to travel with your oils or are storing them in a humid environment.
Compartments and Dividers
Material and Design
Compartments and dividers, often made of foam or wood, help to keep each oil bottle separated and organized. For example, foam dividers that are 2 inches high can snugly hold 15ml bottles, preventing them from knocking into each other.
Customization and Flexibility
Some cases allow for customizable dividers, enabling the user to organize the space according to the size of their bottles, which can vary from 5ml to 30ml.
Portability (Handles, Straps)
Design and Material of Handles
Handles and straps are essential for portability. For example, a reinforced leather handle can provide a comfortable and durable way to transport your oils.
Convenience and Travel-readiness
Look for cases with detachable and adjustable straps, which make it convenient for both travel and daily use. A strap that adjusts from 30 to 50 inches can suit different body types and carrying preferences.
Weight and Size for Travel
For those who frequently travel, consider the weight and dimensions of the case. A travel-friendly case might weigh under 3 lbs and meet airline regulations for carry-on items.
What is an essential oil storage case?
An essential oil storage case is a specially designed container for securely storing essential oil bottles, protecting their quality and stability.
What are the dimensions and specifications of essential oil storage cases?
The dimensions and specifications of essential oil storage cases vary by brand and model, typically accommodating essential oil bottles ranging from 5 to 15 milliliters in size.
What materials are essential oil storage cases made of?
Essential oil storage cases are usually made from durable materials such as wood, leather, metal, or hard plastic.
What are the advantages of using an essential oil storage case?
Essential oil storage cases effectively shield oils from sunlight, heat, and moisture, extending their shelf life and preserving their aromatic properties.
What are some drawbacks of essential oil storage cases?
Certain cases may be relatively costly, particularly those crafted from high-quality materials. Additionally, the case's size might limit the number of oil bottles it can hold.
How should I properly use an essential oil storage case?
Place essential oil bottles upright in the storage case with lids tightly closed. Keep the case in a location that avoids direct sunlight and extreme temperature changes.
What is the price range for essential oil storage cases?
The price of essential oil storage cases varies based on brand, materials, and capacity. Lower-end cases may cost around $10, while higher-end ones could exceed $50.
How many oil bottles can a storage case hold?
The capacity of storage cases varies, generally accommodating between 5 and 30 essential oil bottles.