EVA (Ethylene Vinyl Acetate) is generally regarded as a safe and non-toxic material. However, when heated beyond 320°C (608°F), it can release fumes such as acetaldehyde, which is a potential carcinogen. While EVA is extensively used due to its flexibility and durability, concerns regarding environmental impact arise due to its long landfill lifespan and low global recycling rate. It is vital for manufacturers, like Bonito, to comply with regulations and invest in sustainable practices to mitigate these concerns.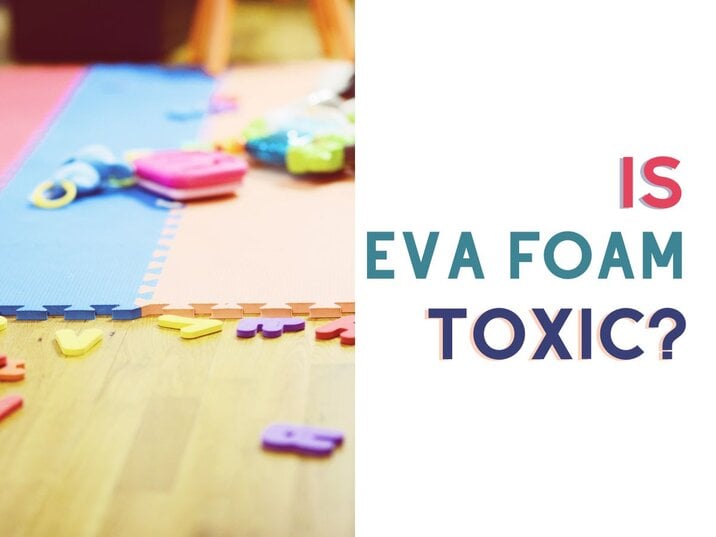 Introduction
Definition of EVA (Ethylene Vinyl Acetate)
Ethylene Vinyl Acetate) is a type of plastic known as a polymer. It is created by combining ethylene and vinyl acetate, resulting in a soft and flexible material. Its flexibility is directly proportional to the VA content: higher VA content results in increased flexibility. Typically, EVA might contain 10-40% of vinyl acetate by weight.
Common Uses of EVA Material
EVA's unique features make it favorable for a wide range of applications. Some of the notable uses include:
Footwear: Owing to its cushioning effect, EVA is a common material in shoe soles. Its lightweight characteristic allows designers to achieve performance with a weight cut by nearly 30% compared to conventional rubber.
Packaging: The material's softness and flexibility, combined with a temperature resistance ranging from -30°C to 65°C, makes it a popular choice for packaging sensitive electronics.
Sports Equipment: Sports goods like hockey pads and helmets utilize EVA for its impact absorption ability. In such applications, a density of 0.93 g/cm³ proves crucial in ensuring safety.
Automotive: As a durable and lightweight option, EVA finds applications in car interiors, specifically in mats and seat covers. Incorporating EVA can lead to a 15% reduction in the overall weight of the car's interior components.
Chemical Composition of EVA
Ethylene
Ethylene (C2H4) is a hydrocarbon and is one of the fundamental ingredients in the composition of EVA. It units contribute significantly to the crystalline nature of the polymer, providing strength and rigidity.
Function: It determines the melting point and stiffness of EVA. High ethylene content generally increases the melting point, making EVA harder.
Proportion: In most EVA products, the proportion of ethylene ranges from 60% to 88% by weight.
Price: As of 2023, the price of ethylene is approximately $1200 per metric ton.
Processing Temperature: Ethylene is typically polymerized with vinyl acetate at a temperature range of 150°C to 250°C.
Vinyl Acetate
Vinyl Acetate (C4H6O2) is the second principal component in EVA.
Function: The presence of vinyl acetate groups disrupts crystallinity and thus increases the flexibility and transparency of EVA.
Proportion: The vinyl acetate content in EVA can vary significantly, typically ranging from 12% to 40% by weight.
Price: The price of vinyl acetate as of 2023 is around $1300 per metric ton.
Processing Temperature: Vinyl acetate is polymerized with ethylene at temperatures ranging from 150°C to 250°C.
Other Components
Antioxidants and Stabilizers: These are added to improve resistance to heat and oxidative degradation. Typically used at levels of 0.1% to 1.0% by weight of the polymer.
Fillers and Reinforcements: Examples include calcium carbonate and carbon black. They are used to improve specific mechanical properties, typically in quantities of 5% to 30% by weight.
Plasticizers: Such as dioctyl phthalate (DOP), are used to further increase flexibility. Generally used at levels of 1% to 50% by weight.
The Application Products of EVA Materials by Bonito
Bonito, a renowned brand in the industry, has been leveraging the versatile properties of EVA materials to create a range of innovative products. From consumer goods to industrial applications, Bonito's products stand out for their quality and design.
EVA Footwear
Bonito has a signature line of EVA footwear, known for its combination of comfort, durability, and style.
Materials: Bonito uses high-grade EVA with 20% vinyl acetate content, striking a balance between softness and resilience.
Size Range: Available from US size 5 to 15.
Price: The average price for a pair of Bonito EVA footwear stands at $60.
Design: Bonito offers a plethora of designs, from casual sandals to sports shoes.
Lifespan: These footwear products last on average 2-3 years under regular usage.
Market Value: Bonito's EVA footwear line is estimated to have generated $20 million in sales in 2022.
EVA Insulation Panels
Bonito's EVA insulation panels are popular in the construction industry due to their exceptional thermal insulation properties.
Thickness: Ranges from 5mm to 50mm.
Temperature Resistance: Effective in a temperature range of -30°C to 70°C.
Cost: On average, these panels are priced at $15 per square meter.
Energy Efficiency: Bonito's EVA panels can reduce heating costs by up to 40% due to their excellent insulation properties.
Installation Time: A 200 sqm area can be insulated with Bonito EVA panels in approximately 8 hours.
EVA Medical Devices
Function: Provide comfort and support, especially for patients with foot conditions like plantar fasciitis.
Material Specification: Comprises 25% vinyl acetate for optimal softness and flexibility.
Price: Bonito's EVA orthopedic insoles are priced around $30 per pair.
Size and Customization: Available in standard sizes, with an option for custom molding based on the patient's foot anatomy.
Lifespan: The insoles have a lifespan of 1-2 years under regular usage.
Bonito EVA Packaging Solutions
Common Uses: For protecting high-end electronics and delicate instruments during shipping.
Design Feature: Custom molded to fit the specific dimensions of the product, ensuring maximum protection.
Cost Savings: Use of Bonito's EVA packaging reduces damage-related returns by an estimated 60%, representing significant cost savings for companies.
Price Point: The price for Bonito's EVA packaging solutions starts from $5 per unit for standard sizes.
Overview of Toxicity Concerns
Human Health Impact
Off-Gassing: When heated beyond 320°C (608°F), EVA can potentially release harmful fumes, such as acetaldehyde, a potential carcinogen.
Contact Allergies: Although rare, some individuals may have a sensitivity to EVA, resulting in skin irritation when in direct contact with the material.
Cost of Medical Treatment: In cases of severe allergic reactions, the cost of treatment can range from $500 to $3,000 depending on the severity and duration of the care required.
Environmental Impact
EVA's environmental impact mainly revolves around its production and disposal.
Production Carbon Footprint: The manufacturing process of EVA emits approximately 2.5 kg of CO2 per kg of EVA produced.
Recycling Rate: As of 2023, only about 20% of EVA waste is recycled globally, leaving a significant portion to be managed via other disposal methods.
Landfill Lifespan: EVA products can take up to 1,000 years to fully decompose in a landfill.
Regulatory Framework and Compliance Costs
With toxicity concerns in view, several countries have set regulations regarding the use of EVA, especially in children's products and food packaging.
Standard Specifications: For example, the U.S. FDA requires that EVA used in food contact materials must meet specific migration limits for vinyl acetate.
Compliance Costs: For a medium-sized manufacturer like Bonito, compliance with these regulations can cost an estimated $50,000 annually in testing and certification processes.
Legal Implications: Failing to meet these standards can result in fines and penalties. For instance, in a recent case, a company was fined $250,000 for not complying with the vinyl acetate migration limits in food packaging.
Mitigation Strategies by Bonito
Innovative Material Formulation: Bonito develops EVA with a reduced vinyl acetate content of 15% to minimize potential toxicity while maintaining material performance.
Investment in R&D: Bonito annually invests approximately $1 million in research and development to explore safer and more sustainable EVA formulations.
Consumer Education: Bonito invests in educating consumers about the proper use and disposal of EVA products, aiming to reduce improper disposal by 30% over the next 5 years.
Is EVA material toxic to humans?
EVA material is generally considered safe for human exposure. Under normal conditions, it doesn't release harmful toxins.
Are there any harmful chemicals released during EVA production?
EVA manufacturing processes typically involve low toxicity levels, and any emissions are closely regulated to minimize environmental impact.
Can EVA products emit toxic fumes when heated?
EVA can release trace amounts of volatile organic compounds when heated to high temperatures, but the levels are usually not hazardous.
What is the lifespan of products made from EVA material?
The lifespan of EVA-based products varies based on usage and environmental conditions, but they can last for several years.
Are there regulations governing EVA material toxicity?
Regulatory bodies like the EPA and REACH oversee the use of EVA and set guidelines to ensure its safe production, use, and disposal.
What are the advantages of using EVA material in manufacturing?
EVA offers benefits such as flexibility, impact resistance, and ease of processing, making it suitable for industries like footwear, packaging, and sports equipment.
Are there any drawbacks to using EVA material?
EVA's low melting point can limit its application in high-temperature environments. Additionally, it might not be as structurally strong as some other materials.
How is the environmental impact of EVA material managed?
Proper disposal and recycling of EVA-based products are crucial to minimize their environmental impact. Recycling programs and waste management strategies play a role in this.