A hard case cosmetic bag is a protective storage solution for makeup and beauty products. Constructed from durable materials like polycarbonate or ABS plastic, it offers enhanced protection against impacts, ensuring cosmetics remain intact. With organized compartments, it provides systematic storage, making it ideal for both daily use and travel.
Introduce of Hard Case Cosmetic Bag
Hard case cosmetic bags, in the world of beauty and cosmetics, stand as the fortress guarding valuable makeup tools and products. Their sturdy design not only ensures the longevity of the products housed within but also affords users a sense of style and sophistication.
Introduction
With makeup becoming an indispensable part of many people's daily routines, the need for a safe storage solution has never been more paramount. Enter the hard case cosmetic bag. With its robust structure, it ensures that the delicate makeup items, from powders to brushes, remain in pristine condition.
Material Insights
The heart of a hard case cosmetic bag's efficiency lies in its construction material. Often crafted from polycarbonate or ABS plastic, these bags offer rigidity. Furthermore, certain premium models might incorporate an aluminum frame, which provides an added layer of protection and gives the bag a sleek finish.
These materials are chosen for their durability, lightweight properties, and resistance to common threats like water and heat. For instance, polycarbonate can endure temperatures up to 125°C and is known for its high impact resistance.
Size and Specifications
A typical hard case cosmetic bag might measure 10 x 8 x 5 inches, although sizes can vary based on needs. Inside, you might find customizable dividers, allowing users to adjust compartments according to the size of their makeup products.
The weight of these bags usually falls within the range of 1 to 2.5 pounds, ensuring they remain portable. However, always check the product specifications to ensure the bag's weight and dimensions suit your needs.
Decision Factors
When in the market for a hard case cosmetic bag, a few factors can guide the decision:
Budget: A good quality hard case can cost between $30 to $70. However, special features can increase the price.
Functionality: Always check the interior. Customizable dividers, mirror additions, or built-in lights can greatly enhance usability.
Aesthetic Appeal: While function is crucial, the design and appearance also matter to many.
Durability: Ensure that the chosen model has a track record of longevity and can withstand the rigors of daily use or travel.
Design and Materials
Cosmetic bags, specifically hard case ones, merge the worlds of functionality and fashion. But what truly differentiates one from the other? The answer often lies in their design and the materials used. By understanding these, a buyer can make more informed decisions and choose a product that stands the test of time while serving its purpose efficiently.
Hard Case Materials
The foundation of any hard case cosmetic bag is its external material, which ensures durability, protection, and, in many cases, style.
Polycarbonate
A commonly used material, polycarbonate, provides exceptional strength while remaining lightweight. It can endure temperatures of up to 125°C and offers high resistance to impact. Moreover, it's relatively affordable, with a standard hard case cosmetic bag made from polycarbonate typically priced around $40 to $60.
ABS Plastic
ABS plastic is another popular choice, known for its toughness and rigidity. With a melting point of 105°C, it's slightly lower than polycarbonate but still offers substantial protection against most conditions. The cost of ABS plastic-made cosmetic bags usually ranges from $35 to $55.
Aluminum
For those seeking a blend of luxury and strength, aluminum stands as a prime option. It's rust-resistant and can withstand considerable force. The reflective properties of aluminum add a unique shimmer to the case, making it aesthetically appealing. Aluminum-cased bags are generally priced higher, often starting from $70 upwards.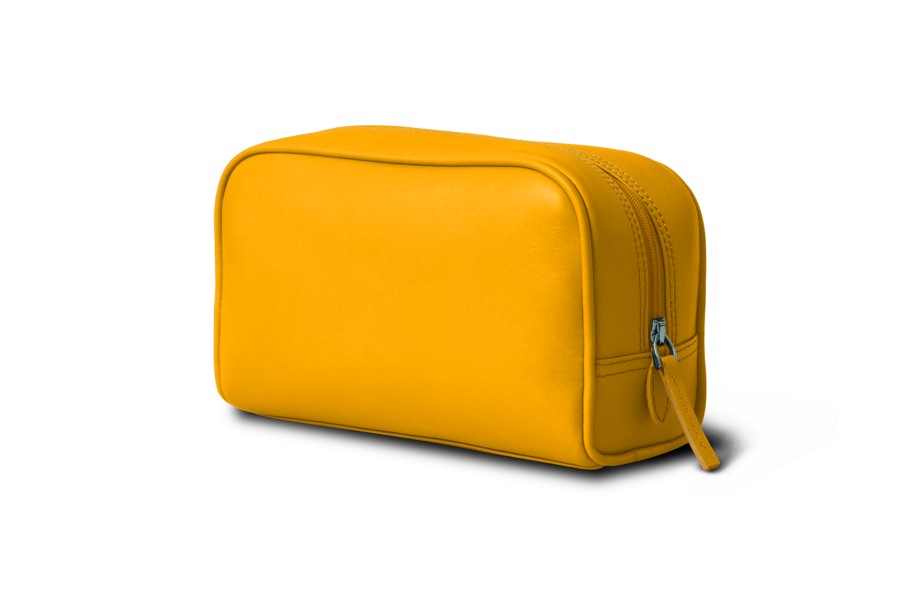 Interior Design and Compartments
The inside of a hard case cosmetic bag is where functionality truly shines. Proper interior design ensures cosmetics remain organized, easily accessible, and intact.
Adjustable Dividers
A sought-after feature, adjustable dividers allow users to customize the bag's layout. Whether you have more lipsticks or eyeshadow palettes, these dividers let you create a space tailored to your collection.
Dedicated Brush Holders
Brushes require special attention. Dedicated brush holders, often found on one side of the case, keep brushes organized, preventing bristle damage.
Mirror Inclusion
Some high-end models include built-in mirrors, adding to the convenience. This feature eliminates the need to carry an extra mirror, especially useful for touch-ups on the go.
Zipper and Locking Mechanisms
Ensuring your cosmetics are safe and secure is of paramount importance. This is where zippers and locking mechanisms come into play.
Double Coil Zippers
These zippers are robust and offer smooth functionality. Their design reduces the chances of teeth misalignment, ensuring longevity.
Combination Locks
For added security, especially when traveling, some bags feature combination locks. Users can set a personal code, preventing unauthorized access.
Magnetic Closures
A newer feature seen in some modern designs is magnetic closures. They provide swift access, but it's essential to ensure the magnet's strength is adequate to prevent unintentional opening.
Benefits of Using a Hard Case Cosmetic Bag
The beauty world is ever-evolving, with a plethora of products available in the market. As a result, a reliable storage solution becomes indispensable. Hard case cosmetic bags have emerged as a favorite due to their manifold benefits, encompassing everything from protection to portability.
Protection for Cosmetics
Cosmetic products, especially those of high quality, come at a premium. Thus, safeguarding them becomes imperative.
Robust Exterior
With materials like polycarbonate and aluminum, hard case bags can withstand significant impacts. Whether it's an accidental drop from a height of 1.5 meters or the rough handling during transit, these cases are designed to bear it all without transferring the shock to the cosmetics inside.
Temperature Regulation
Cosmetics such as lipsticks can start melting at temperatures as low as 30°C. Hard case bags, particularly those with aero-tech insulation, maintain an internal temperature between 18°C to 24°C, even when outside temperatures soar.
Water Resistance
An overlooked aspect, but vital, is protection against moisture. Whether it's an accidental spill or high humidity, these bags, thanks to their material composition, prevent moisture ingress, thus safeguarding products from potential damage.
Organization and Storage
Beyond protection, these bags offer a structured way to store cosmetics, ensuring that users spend less time searching and more time beautifying.
Customizable Compartments
Adjustable dividers, as discussed earlier, let users tailor the storage space as per their collection size. Be it 20 lipsticks or 5 large eyeshadow palettes, there's a slot for everything.
Elastic Pouches
Often located on the inner side of the lid, these pouches hold products that don't fit into the main compartment. They're perfect for storing smaller items like nail polishes or miniature perfume bottles.
Clear View Design
Some bags incorporate a transparent top or sections, allowing users to get a clear view of the contents without opening the bag. This design is particularly handy when one is in a rush.
Portability and Travel Friendliness
For the on-the-go individual or the avid traveler, the hard case cosmetic bag is a boon.
Compact Dimensions
Most hard case bags, despite their robust protection, come in dimensions of roughly 10 x 8 x 5 inches, making them fit comfortably in larger handbags or suitcases.
Lightweight Design
With an average weight hovering around 1.5 pounds, these bags won't add significant weight to your luggage. The lightweight design, combined with a sturdy handle or shoulder strap, makes it easy to carry them around.
TSA Compliance
Traveling by air? Many hard case cosmetic bags are designed to be TSA compliant, ensuring they pass airport security checks without hassles. It's essential to check the product specifications before making a purchase to ensure this feature.
Choosing the Right Hard Case Cosmetic Bag
In the realm of beauty and makeup, a hard case cosmetic bag stands as a blend of practicality and style. However, the vast array of options available can make the selection process daunting. Here's a guide to help you navigate and select the perfect cosmetic bag tailored to your needs.
Size and Capacity
The crux of selecting the ideal cosmetic bag lies in understanding your collection's size and the bag's intended usage.
Assess Your Collection
Begin by evaluating the number and size of items in your collection. If you have 50+ products, you'll require a bag with a capacity of at least 5 liters. However, for a minimalist collection of about 10-15 items, a 2-liter bag should suffice.
Intended Use
Are you a professional makeup artist or an everyday user? Professionals often require larger bags, ranging from 10 to 20 liters, due to the diverse range of products they carry. On the other hand, daily users or travelers might prefer something more compact.
Flexibility
Opt for bags with adjustable compartments, especially if your collection is ever-growing. This way, as you add more products to your collection, the bag can adapt accordingly without the need for a replacement.
Budget Considerations
Like any purchase, budget plays a pivotal role in determining the kind of cosmetic bag one can acquire.
Set a Range
It's always wise to have a budget range rather than a fixed amount. For instance, if you're looking to spend around $50, consider bags in the $40 to $60 range. This gives you flexibility in choice without drastically affecting your finances.
Factor in Longevity
Sometimes, spending a tad more can fetch you a product that lasts significantly longer. Aluminum cases, for instance, might cost around $70 to $90, but their lifespan and durability often justify the additional expenditure.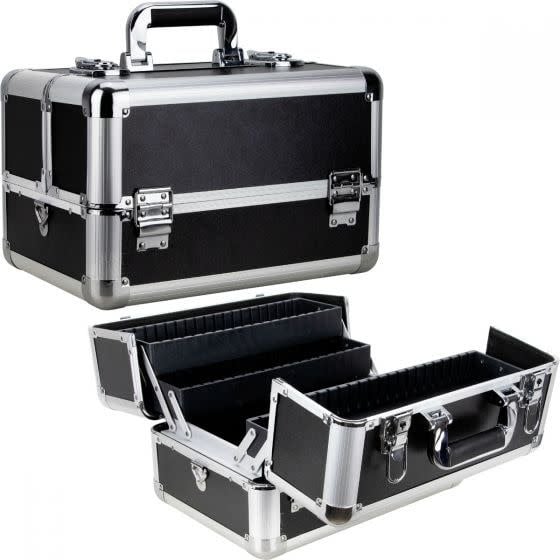 Discounts and Sales
Regularly check online platforms or local stores for discounts and sales. Many times, high-quality bags are available at a fraction of the cost during clearance or festive sales.
Style and Aesthetics
While functionality is paramount, the visual appeal of the cosmetic bag shouldn't be overlooked, especially if it's something you'll carry around often.
Color Palette
From classic blacks and silvers to vibrant reds and pastels, there's no dearth of color options. While some might prefer neutral shades due to their timeless appeal, others might opt for brighter hues that reflect their personality.
Finish
The finish can drastically affect the bag's appearance. Matte finishes offer a sleek, modern look, while glossy finishes provide a touch of glamour and luxury. Some bags even come with patterns or embossed designs for added flair.
Branding and Logos
Some individuals prefer bags with minimal branding, ensuring the design remains the focal point. Others might lean towards bags with prominent logos, especially if they're from esteemed brands or designers. However, it's essential to ensure the logo's authenticity, especially when purchasing from third-party sellers.
Alternative Uses for a Hard Case Cosmetic Bag
While the primary intent of a hard case cosmetic bag is to store and transport cosmetics securely, its versatile design means it's adaptable for various other uses. Its sturdy structure combined with its interior compartments makes it suitable for multiple storage purposes.
Storing Jewelry and Accessories
A hard case cosmetic bag is a jewelry lover's dream. The soft inner lining, combined with the hard exterior, ensures your jewelry remains scratch-free and safe from external pressures.
Compartmentalizing Items
With many bags offering adjustable compartments, you can easily customize sections based on jewelry types. Necklaces can be stored without tangling, while rings and earrings can be placed in smaller sections.
Travel-friendly
When you're on the go, transporting jewelry can be a hassle. The hard case cosmetic bag, weighing typically around 1-2 kilograms, provides a compact solution, ensuring your precious items remain intact during transit.
Protection from Elements
With a typical insulation rating of R-2 to R-4, these cases can also shield your jewelry from temperature fluctuations, keeping them safe, especially if they're delicate or vintage pieces.
As a Portable Art Supplies Case
For the artists out there, this cosmetic bag can double up as a portable art studio.
Storing Brushes and Pens
The elastic loops in many of these cases, designed originally for makeup brushes, can perfectly accommodate paint brushes, pens, and pencils. The bag's size, generally spanning 20cm to 40cm in length, makes it ideal for carrying a variety of tools.
Holding Paints and Pastels
The separated compartments can hold small paint tubes, pastels, and other art supplies. Given the average compartment height of 4cm to 6cm, even taller paint tubes can be comfortably stored.
Protecting Your Supplies
Its durable exterior, often made of materials like polycarbonate, ensures your supplies are shielded from physical impacts. Moreover, the zippered closure ensures nothing falls out, even if the bag is tipped over.
Other Creative Uses
The versatility of a hard case cosmetic bag doesn't stop at jewelry and art supplies.
Electronics Organizer
In our digital age, we're surrounded by gadgets and their accompanying cables. The bag's typical depth of 10cm to 15cm means it can accommodate chargers, earphones, power banks, and even some smaller tablets.
First Aid Kit
For those who love outdoor activities, transforming this bag into a first aid kit can be a lifesaver. The compartments can store bandages, ointments, medicines, and other essentials systematically.
Sewing Kit
The bag can house sewing essentials, from threads and needles to buttons and measuring tapes. Given the inherent organization these bags offer, it's easy to access any item without rummaging through.
Comparing Hard Case Cosmetic Bag to Soft Case Options
The choice between hard and soft case cosmetic bags often hinges on individual requirements and preferences. Both options present their unique advantages and drawbacks. Here's an in-depth comparison based on durability, convenience, and price.
Durability and Protection
Hard Case Cosmetic Bags:
Material: Typically constructed from durable materials such as polycarbonate or ABS plastic, they offer rigid protection against physical impacts.
Protection Level: With a standard impact resistance rating of up to 7 Joules, hard cases are designed to safeguard the contents from major falls or pressures.
Lifespan: On average, with good care, a hard case can last 8-10 years before showing significant wear.
Soft Case Cosmetic Bags:
Material: Often crafted from fabrics like nylon, polyester, or leather. While they might cushion against minor impacts, they don't provide the rigid protection of a hard case.
Protection Level: Typically, soft cases can withstand minor impacts up to 3 Joules, making them less robust against accidental drops.
Lifespan: Given their material, soft cases might show wear in about 5-7 years of regular use.
| Feature | Hard Case | Soft Case |
| --- | --- | --- |
| Material | Polycarbonate/ABS | Nylon/Polyester |
| Impact Resistance | Up to 7 Joules | Up to 3 Joules |
| Expected Lifespan | 8-10 years | 5-7 years |
Convenience and Portability
Hard Case Cosmetic Bags:
Weight: Typically heavier, ranging between 1.5kg to 3kg.
Flexibility: Rigid structure means it can't be compressed into tight spaces during travel.
Storage Design: Often come with structured compartments, which aid in systematic organization.
Soft Case Cosmetic Bags:
Weight: Generally lighter, with an average weight of 0.5kg to 1.5kg.
Flexibility: Can be squished or compressed to fit into tighter spots.
Storage Design: While some might have pockets, they might lack the structured organization of hard cases.
| Feature | Hard Case | Soft Case |
| --- | --- | --- |
| Average Weight | 1.5kg – 3kg | 0.5kg – 1.5kg |
| Flexibility | Rigid | Compressible |
| Storage Design | Structured Compartments | Some pockets |
Price Comparison
While prices can fluctuate based on brand, design, and features, here's a general overview:
Hard Case Cosmetic Bags:
Average Price: Typically, the price ranges from $40 to $100 for standard models, with premium ones costing even more.
Soft Case Cosmetic Bags:
Average Price: Generally more affordable, with prices floating between $20 to $60 for most models.
| Feature | Hard Case | Soft Case |
| --- | --- | --- |
| Average Price | $40-$100 | $20-$60 |
What materials are hard case cosmetic bags typically made of?
Hard case cosmetic bags are commonly constructed from materials like polycarbonate, ABS plastic, aluminum, or EVA (ethylene-vinyl acetate) with reinforced shells for durability.
What are the advantages of using a hard case cosmetic bag?
Hard case cosmetic bags provide superior protection for cosmetics due to their rigid construction. They are impact-resistant, safeguarding fragile items from breakage or spillage during travel. They also offer organized storage with compartments and dividers.
Are hard case cosmetic bags larger than soft ones?
Hard case cosmetic bags come in various sizes, just like soft bags. They can range from compact options for essentials to larger cases that accommodate a wider variety of makeup products.
Do hard case cosmetic bags have specific compartments for different products?
Yes, many hard case cosmetic bags feature compartments, pockets, and dividers to keep makeup items organized and prevent them from moving around.
Are hard case cosmetic bags more expensive than soft ones?
Hard case cosmetic bags can be more expensive due to their durable materials and protective features. Prices vary based on brand, size, materials, and additional features.
Are hard case cosmetic bags heavier to carry compared to soft bags?
Hard case cosmetic bags can be slightly heavier due to their rigid construction, but many models are designed with lightweight materials to minimize the weight.
Can hard case cosmetic bags be used for other purposes besides makeup storage?
Yes, these bags can also be used for storing small electronic devices, jewelry, or other delicate items that require protection during travel.
Do hard case cosmetic bags have any disadvantages?
One potential disadvantage is that hard case bags may take up more space compared to collapsible soft bags when not in use. Additionally, some users might find them bulkier to carry in certain travel scenarios.