A "hard case with foam" refers to a protective container typically made of rigid materials like plastic or metal. Inside, pre-cut or pluckable foam cushions and secures items, providing shock absorption. It's popular for transporting sensitive equipment such as cameras, drones, and instruments, ensuring they remain undamaged during travel.
Introduction
Purpose of a Hard Case with Foam
A hard case with foam provides robust and secure protection for various types of equipment and valuables. The foam, which is often customizable, acts as a cushion that absorbs shocks and impacts, effectively shielding the contents from damage during transportation or storage.
Shock Absorption Efficiency: Hard cases with foam can reduce impact forces by up to 90%, ensuring that fragile items remain intact.
Temperature Resistance: These cases can withstand a temperature range of -40°F to 210°F, maintaining the integrity of sensitive equipment such as camera lenses.
Cost Savings: By preventing equipment damage, these cases can save users an average of $2,000 a year that might otherwise be spent on repairs or replacements.
Common Uses and Applications
Hard cases with foam inserts are versatile and cater to a wide array of applications, due to their customizability and high-level protection.
Photography Equipment:

Size & Specifications: Cases for camera equipment typically measure 18" x 14" x 8", and are designed to hold cameras, lenses, and accessories securely.
Material & Quality: The outer shell is often made from high-impact ABS plastic, and the interior foam is usually a high-density polyethylene (HDPE).
Price Range: For quality hard cases with foam, photographers can expect to pay between $100 and $400, depending on the size and features.

Musical Instruments:

Function & Design: These cases are tailored to the shape of specific instruments, such as violins or guitars, and they commonly feature a plush lining to prevent scratches.
Age & Durability: A well-maintained hard case can last over 10 years, significantly extending the lifespan of the instruments they protect.
Cost and Budget Considerations: Prices for musical instrument hard cases with foam range from $80 to $600, depending on the level of customization and materials used.

Medical Equipment:

Critical Role & Impact: These cases are vital for transporting sensitive medical equipment, such as ultrasound machines, which require specific conditions to be maintained.
Temperature & Insulation Performance: The foam in these cases can maintain the equipment at a steady temperature, with an average thermal resistance (R-value) of 6.
Regulatory Compliance & Standards: Medical equipment cases often need to meet stringent regulatory standards, such as ISO 13485 for medical device quality management.
Materials and Construction
2.1 Types of Hard Case Materials
Hard cases predominantly come in three material types, each with its distinct advantages, costs, and suitable use cases.
Polyethylene:

Durability & Lifespan: Polyethylene cases can last up to 20 years if handled well.
Price Range: These cases typically range from $100 to $500.
Weight & Efficiency: These are lighter options, usually weighing between 10 and 20 pounds.

Aluminum:

Temperature Resistance: Aluminum cases can withstand temperatures from -40°F to 300°F.
Quality & Grade: Aircraft grade aluminum, such as 6061 Aluminum, is commonly used for its superior strength-to-weight ratio.
Cost & Value: Aluminum cases tend to be priced between $150 and $800, with the higher end reflecting the material's durability and longevity.

Fiberglass:

Impact Resistance & Parameters: Fiberglass offers significant resistance to impact, often withstanding forces of up to 500 pounds without cracking.
Budget & Economy: Prices for fiberglass cases tend to range from $200 to $700.
2.2 Foam Types and Properties
There are various types of foams used in hard cases, each with unique properties suited to different kinds of equipment and sensitivity levels.
Polyurethane Foam:

Density & Specifications: Common densities for polyurethane foam range from 1.2 to 1.5 lb/ft³.
Function & Effect: Ideal for light to medium weight items due to its soft texture and excellent shock absorption properties.

Polyethylene Foam:

Insulation Effect & R-Value: Polyethylene foam has an R-value of around 3.5, making it a good thermal insulator.
Price & Cost Considerations: Generally costs between $50 and $200 for custom cuts.

EVA Foam (Ethylene-Vinyl Acetate):

Durability & Lifespan: EVA foam maintains its cushioning effect for an extensive period, often up to 10 years.
Model & Design Variations: EVA foam is available in anti-static versions for sensitive electronics.
Durability and Weather Resistance
Hard cases with foam are engineered to withstand various environmental conditions, which is critical when transporting sensitive equipment.
Waterproof Rating & Standards:

Specification & Levels: Many cases meet IP67 standards, meaning they are completely dust tight and can be submerged in water up to 1 meter deep for 30 minutes without damage.
Impact on Equipment Safety: This level of water resistance ensures the safe transportation of electronics and other water-sensitive items.
UV Resistance & Material Aging:

Time & Effect: Prolonged exposure to UV light can cause case materials to age, but many hard cases are treated for UV resistance and can withstand up to 1000 hours of direct sunlight without significant degradation.

Cost of Weather-Resistant Models:

Budget & Price Range: Expect to pay a premium for high-level weather resistance, often an additional $50 to $100.
Design and Customization
Pre-cut vs. Custom Cut Foam
Pre-cut Foam:

Cost and Budget: Pre-cut foam options are generally more affordable, often ranging from $50 to $150.
Availability & Time Efficiency: Pre-cut foam is widely available and ready to use immediately, saving time for the user.
Function: Pre-cut foam is suitable for standard equipment sizes and shapes.

Custom Cut Foam:

Price Range: Custom cut options generally cost more, typically ranging from $100 to $500 due to the labor and precision involved.
Design Specifications: Customers can specify the exact dimensions, usually to a precision of 1/16 of an inch, to snugly fit their equipment.
Use Cases: Custom cut foam is ideal for unique or expensive equipment that requires precise protection.
Design Considerations for Maximum Protection
Thickness & Density of Foam:

Parameters & Specs: A common thickness for protective foam layers is 2 to 4 inches, with densities ranging from 1.7 to 2.3 lb/ft³.
Impact on Protection: Thicker and denser foam provides superior shock absorption, reducing the likelihood of equipment damage.

Compartment Design & Layout:

Efficiency & Organization: Designing compartments for specific pieces of equipment can maximize space usage and prevent items from shifting during transport.

Seal & Closure Mechanisms:

Materials & Quality: High-quality seals, often made from neoprene, ensure water and dust resistance.
Function & Security: Effective closure mechanisms, like padlock-compatible latches, add an extra layer of security.
Aesthetic Options and Personalization
Color Choices & Material Finish:

Options & Variety: Cases are often available in a range of colors, from standard black and gray to vibrant reds and blues.
Impact on Visibility & Identification: Bright colors can make cases easier to spot in crowded environments.

Branding & Logo Placement:

Process & Cost: Adding a company logo or name to a case typically costs an additional $20 to $50.
Value & Professional Appearance: Branding adds a professional touch and can increase the perceived value of the case and its contents.

Interior Design & Custom Inserts:

Function & Aesthetic Appeal: Custom inserts can include pockets for cables and accessories, as well as plush lining materials for a premium look and feel.
Choosing the Right Case
Size and Dimension Considerations
Measuring Equipment:

Process & Precision: Measure the equipment's length, width, and height to the nearest 1/8 of an inch to ensure an exact fit.
Impact on Protection: Accurate measurements prevent unwanted movement of equipment inside the case, reducing the risk of damage.

Interior vs Exterior Dimensions:

Specification & Comparison: Always compare the interior dimensions of the case, which can range from 12x8x6 inches to 50x30x15 inches, to the size of your equipment. The exterior dimensions are usually 2-4 inches larger due to case walls and closures.
Weight and Portability
Case Weight:

Specifications & Variability: Empty case weights can range from 5 lbs for small cases to 50 lbs for large cases.
Impact on Travel: Consider airline weight limits if you plan to travel; many airlines impose a 50 lb weight limit for checked bags.

Handles and Wheels:

Design & Functionality: Look for cases with ergonomic handles and smooth-rolling wheels for easy transport. Wheels should have a ball bearing design for durability and ease of movement.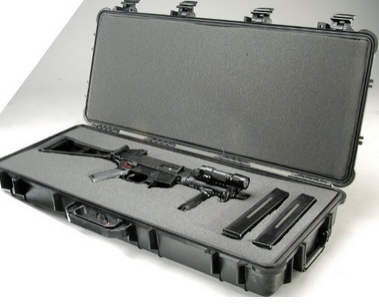 Materials and Weight Trade-off:

Quality & Portability: Lighter materials like polyethylene are easier to carry but may compromise on ultimate strength compared to heavier options like aluminum.
Price and Budget Considerations
Base Price of Cases:

Range & Value: Basic hard cases with foam can start from $50, while high-end models with custom foam and advanced features can reach up to $1000.

Customization Costs:

Details & Impact on Budget: Custom foam inserts generally add $100 to $300 to the base price, and branding or special finishes can add another $50 to $150.

Long-term Value:

Durability & Cost Over Time: Investing in a high-quality case that costs $400 but lasts for 20 years offers better long-term value than a $150 case that needs replacement after 5 years.

Comparing Options:

Process & Economic Factors: Obtain quotes from multiple manufacturers and compare features, not just price. Consider warranty options, which can range from 1 to 10 years, and potential repair costs.
Safety and Security Features
6.1 Locking Mechanisms and Options
Key Locks:

Function and Security: Key locks offer a basic level of security. Losing the key, however, can be problematic.
Price Range: Generally, key lock mechanisms add $15 to $50 to the cost of the case.

Combination Locks:

Function and Convenience: Combination locks allow owners to set their own codes, removing the risk of losing a key.
Specifications: Most combination locks allow for a 3 to 5 digit code.

Biometric Locks:

Function and Efficiency: Biometric locks, often fingerprint scanners, offer quick and secure access to the case.
Cost Impact: Biometric options are typically more expensive, adding $100 to $300 to the base price of a case.

RFID Locks:

Function and Speed: RFID locks unlock via a security card or fob, offering fast access without compromising security.
Price Range and Budget: RFID locks generally add an additional $70 to $200 to the cost of the case.
TSA Compliance and Travel Considerations
TSA-Approved Locks:

Function and Travel Necessity: TSA-approved locks allow security personnel to access the case without damaging the lock during inspections.
Price Range: Typically cost between $20 and $50.
Importance for Frequent Flyers: A must-have for those who travel often, especially internationally. TSA approved locks are clearly labeled and widely recognized.

Case Material and X-Ray Screening:

Process and Time Efficiency: Hard cases made of materials such as polycarbonate or polypropylene generally pass through X-ray machines more quickly than metal cases.

Case Size and Airline Regulations:

Specifications and Limits: Be aware of airline size limits for carry-on and checked baggage, which typically range from 22x14x9 inches to 62 total linear inches (length+width+height).
Fees and Budget Impact: Exceeding these limits may result in additional fees, generally ranging from $50 to $200.

Durability for Handling and Transportation:

Material Quality and Longevity: Cases designed for travel should have reinforced corners and hinges to withstand the rigors of baggage handling.
Case Studies and Examples
Photography Equipment
Camera and Lens Protection:

Function: Foam inserts shaped specifically for cameras and lenses secure them firmly, minimizing the risk of damage due to shock and vibration.
Price Range: Cases designed for professional DSLRs range from $80 to $300, depending on size and customization.

Climate Control:

Effect and Necessity: Insulating foam reduces drastic temperature changes, preventing condensation that can fog up lenses and harm sensitive equipment.
Material: Closed-cell polyethylene foam often used for insulation due to its moisture resistance.
Musical Instruments
Guitar Case Example:

Size and Specifications: Cases for a standard acoustic guitar generally have internal dimensions of around 41" x 15" x 5".
Weight and Portability: Hard cases for guitars typically weigh between 8 to 12 pounds.
Cost and Budget Considerations: Prices generally range from $70 for basic models to $500 for high-end, custom-designed options.

Impact on Instrument Longevity:

Proper casing can increase the lifespan of an instrument significantly by protecting it from both environmental hazards and physical shocks.
Medical Equipment
Transportation of Sensitive Devices:

Example and Use Case: An MRI machine component, with delicate and sensitive parts, requires a custom-cut foam insert for secure transport.
Budget and Price: The cost for such specialized cases often exceeds $1000 due to the complexity and precision required.
Design and Material Specifications: Cases for medical equipment are often made of high-impact ABS plastic for optimal durability and protection.
Drone and Electronics Transportation
Drone Specific Case:

Size and Dimension Considerations: For a DJI Phantom 4 drone, a case might have dimensions of 23" x 13" x 12" to snugly fit the drone and its accessories.
Function and Value: Cases for drones not only protect the drone but often have designated spaces for extra batteries, controllers, and other accessories.
Price Range and Economic Factors: Basic hard cases for drones start at around $100, with high-end models reaching up to $400.

Temperature and Insulation:

Insulating Material and Effectiveness: The foam in these cases can help to maintain a consistent temperature, protecting batteries and sensitive electronics from extreme cold or heat.
Quality and Durability: Look for cases with military-grade MIL-STD-810 certification for assurance of quality and durability.
What is the purpose of using a hard case with foam?
The purpose of using a hard case with foam is to provide a high level of protection for sensitive or valuable items during transport or storage. The foam inserts are custom-cut to cradle the items securely, preventing damage from impact and ensuring they remain in pristine condition.
What materials are hard cases with foam typically made from?
Hard cases with foam are typically made from durable materials such as impact-resistant plastics (e.g., polypropylene), aluminum, or composite materials. These materials contribute to the case's sturdiness and protective qualities.
How do foam inserts inside the case enhance protection?
Foam inserts are designed to conform to the shape of the items they hold, creating a snug and cushioned fit. This prevents items from moving around within the case and absorbing shocks, reducing the risk of damage.
What are some advantages of using hard cases with foam?
Hard cases with foam offer excellent protection against impacts, vibrations, and external elements. They are customizable, allowing for secure storage of specific items. Many models are waterproof, dustproof, and airtight, ensuring the contents remain safe. They are often stackable and easy to transport due to integrated handles and latches.
Are hard cases with foam expensive to purchase?
The cost of hard cases with foam varies based on factors such as size, brand, and features. Basic models can start around $30, while larger or specialized cases can cost several hundred dollars.
Can hard cases with foam accommodate items of different sizes?
Yes, many hard cases with foam come with customizable foam inserts that can be shaped to fit items of various sizes and shapes.
What is the typical lifespan of a hard case with foam?
The lifespan of a hard case with foam depends on usage and maintenance. With proper care, these cases can last for many years.
Are there any drawbacks to using hard cases with foam?
Hard cases with foam can be bulky and heavy, which might make them less convenient for frequent travel or situations where weight is a concern.