A slim glasses case is a compact and lightweight solution for storing and protecting eyeglasses or sunglasses. Designed to minimize bulk, these cases often use thin, durable materials such as aluminum or high-quality synthetic leather. They are crafted to slide easily into pockets or bags, making them highly convenient for travel and daily use. Slim glasses cases offer a stylish and practical way to safeguard eyewear without adding unnecessary weight or space.
Introduction
The Need for a Slim Glasses Case
A slim glasses case is more than just a stylish accessory. It is a functional, necessary item for anyone who wears glasses. The average cost of prescription glasses can range from $50 to $1,000, making them a significant investment that deserves protection. A slim glasses case, typically measuring around 6 inches in length, 2 inches in width, and 1 inch in depth, is designed to protect this investment without adding bulk. With the rise of minimalistic living and the average person spending nearly $250 a year on eyewear, a slim and compact glasses case becomes a vital tool for safeguarding your glasses, minimizing the chance of damage, which is often estimated at 35% over a two-year span.
Key Points:

Protection for your eyewear investment
Compact and minimalistic design
Reduces the chance of damage to glasses
Overview of Different Glasses Case Types
There are various types of glasses cases, each designed to cater to different needs and preferences. Here are some of the most common:
Hard Cases: Typically made of strong materials like metal or hard plastic, hard cases offer high-level protection. They can range in price from $10 to $50.
Soft Cases: Usually made from fabrics like leather or neoprene, these are lighter and more flexible than hard cases but offer less protection. Prices for soft cases generally range from $7 to $25.
Foldable Cases: These innovative designs collapse when not in use, making them highly portable. They are generally priced between $15 and $40.
Custom Cases: For those who are willing to spend more for a personalized touch, custom cases can be made from various materials and can range in price from $30 to $150.
In terms of size, the most common width of a glasses case is around 50-55 mm, with a depth of 30-35 mm, and a length of 150-160 mm.
Key Points:

Hard Cases: Maximum protection
Soft Cases: Portability and style
Foldable Cases: Convenience and compactness
Custom Cases: Personalization and uniqueness
Design and Materials
Design Aesthetics
Modern slim glasses cases strive to combine functionality with a sleek, appealing design. A popular trend is the minimalist design, featuring clean lines and a lack of unnecessary embellishments. Cases often come in a variety of colors, from classic black to vibrant hues like turquoise or gold. Dimensions typically range from 150-160mm in length, 50-55mm in width, and 20-25mm in depth, ensuring a slim profile.
Color Options: More than 20 available, including matte and glossy finishes.
Engravings: Options for personalized engravings, often at an additional cost of around $10 to $20.
Material Selection
Materials play a critical role in the function and longevity of a slim glasses case. Popular materials include:
Aluminum: Lightweight and strong, but generally higher in cost, typically around $30-$50 per case.
Leather: Offers a luxurious feel and appearance, with costs ranging from $20 to $70.
Polyurethane: A cost-effective and durable option, with prices around $10 to $30.
The material choice directly impacts the weight of the case, which usually falls between 100 and 150 grams.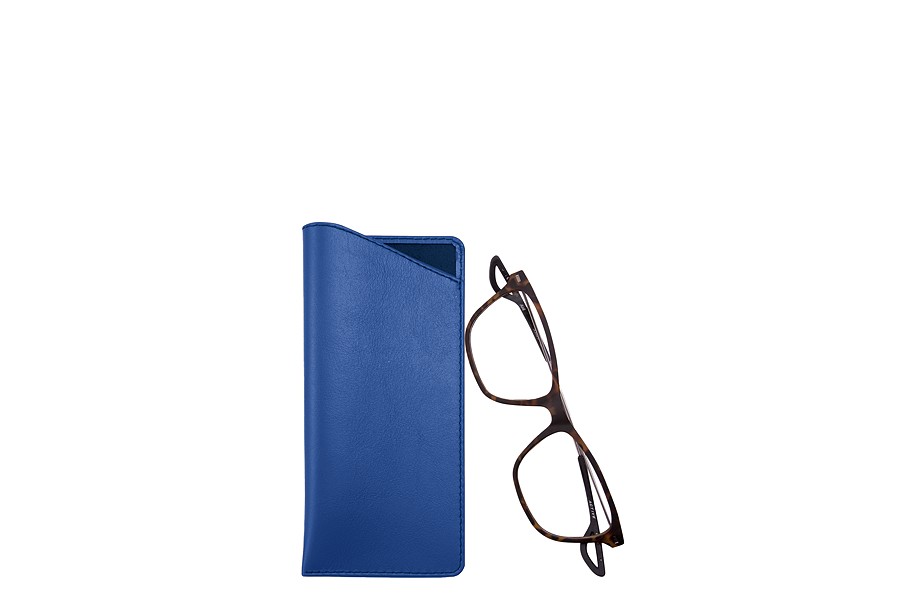 Durability and Protection
A paramount concern is how well the case will protect your glasses. The average slim glasses case is designed to withstand a compressive load of up to 50 kg without deforming. Some cases are even built to withstand temperatures ranging from -20°C to 60°C without compromising the integrity of the case or the glasses inside.
Impact Resistance: Cases typically feature padding or a lined interior to absorb shocks, with a common impact resistance rating of up to 1.5 meters drop.
Lifespan: The average use-life of a high-quality slim glasses case ranges from 3 to 5 years, depending on usage and care.
Size and Dimensions
Standard Sizes
Slim glasses cases are designed to be as compact as possible while ensuring full protection for various sizes of eyewear. Standard sizes typically follow these dimensions:
Small: 150mm (L) x 50mm (W) x 20mm (D), suitable for reading glasses
Medium: 160mm (L) x 55mm (W) x 25mm (D), designed for standard prescription glasses
Large: 170mm (L) x 60mm (W) x 30mm (D), designed for larger frames or sunglasses
These dimensions aim to strike a balance between portability and protection. They generally weigh between 100 and 200 grams, making them easy to carry without becoming a burden.
Weight Considerations: Lighter cases often use materials like polyurethane or thin aluminum, which might be in the range of 100 to 130 grams.
Customization Options
For those with unique eyewear or specific preferences, customization options are often available. Here are some of the typical customization options and associated costs:
Custom Dimensions: Manufacturers may offer options to create a case with your desired dimensions. The additional cost for this customization can range from $10 to $50.
Material Selection: Choose from various materials like leather, aluminum, or bamboo. Depending on the material, this might add $5 to $30 to the base price.
Engravings and Personalization: Add your initials, name, or a personal message. This service typically costs between $5 and $20.
Features and Benefits
Space Efficiency
Slim glasses cases are designed to occupy minimal space, making them an ideal choice for people who are always on the go. The typical slim case design takes up only about 10% of the space of a hard clamshell case, saving valuable room in your bag or pocket.
Volume Savings: Average volume of 150cm³, compared to 500cm³ for traditional cases.
Flat Design: The cases are often only 20mm thick, easily sliding into narrow spaces.
Lightweight
One of the main advantages of slim glasses cases is their light weight. They are engineered to be as light as possible while still providing ample protection for your glasses.
Weight Range: Most slim cases weigh between 80 and 120 grams, which is approximately 40% lighter than traditional hard cases.
Materials: Use of lightweight materials like polyurethane and thin aluminum contributes to the reduced weight.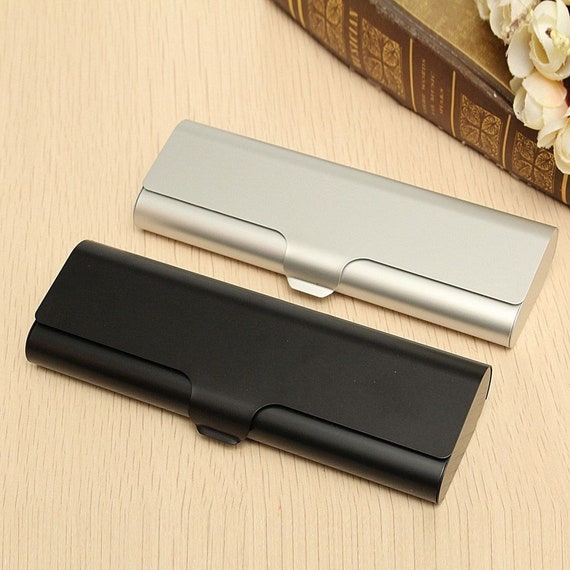 Easy to Carry
The design of slim glasses cases prioritizes ease of transport. Their slim profile and light weight make them easy to carry, whether in a pocket, a purse, or a travel bag.
Pocket-Friendly Design: Most designs are under 160mm in length, allowing them to fit comfortably in standard pockets.
Carry Options: Some models come with a built-in clip or loop, enabling attachment to a bag or belt for hands-free carrying. This feature might add $2 to $5 to the base price.
Travel Ease: Due to their compact nature, they are perfect for frequent travelers, easily fitting in carry-on luggage and passing through airport security checks with minimal hassle.
Price Range and Value
This section provides an insight into the various price ranges of slim glasses cases, broken down into budget, mid-range, and premium options. Each range offers different levels of material quality, durability, design, and additional features.
Budget Options
Budget options for slim glasses cases generally prioritize cost-effectiveness and basic protection.
Price Range: $5 – $15
Material: Primarily made of plastic or basic synthetic leather.
Lifespan: Typically last 1-2 years with regular use.
Features: Basic snap or magnetic closure, minimal padding.
| Model | Price | Material | Lifespan |
| --- | --- | --- | --- |
| A100 | $8 | Plastic | 1.5 years |
| B200 | $12 | Synthetic Leather | 2 years |
Mid-range Options
Mid-range cases strike a balance between quality and cost. They often feature better materials and additional functionalities.
Price Range: $16 – $45
Material: Commonly made from higher quality faux leather, neoprene, or thin aluminum.
Lifespan: Generally last 3-5 years with regular use.
Features: Enhanced padding, more secure closure systems, and some may include a cleaning cloth.
| Model | Price | Material | Lifespan |
| --- | --- | --- | --- |
| C300 | $25 | Faux Leather | 4 years |
| D400 | $35 | Neoprene | 5 years |
Premium Options
Price Range: $50 – $150
Material: Predominantly crafted from genuine leather, high-grade aluminum, or wood.
Lifespan: Built to last, with an expected lifespan of 6-10 years.
Features: High-end closures, superior padding, designer branding, and often come with a lifetime warranty.
| Model | Price | Material | Lifespan |
| --- | --- | --- | --- |
| E500 | $80 | Genuine Leather | 8 years |
| F600 | $120 | High-Grade Aluminum | 10 years |
What is a slim glasses case?
A slim glasses case is a compact and sleek storage solution designed to protect eyeglasses or sunglasses. It's characterized by its thin profile and lightweight design.
What are the advantages of using a slim glasses case?
Slim glasses cases are convenient for people on the go. They take up less space in bags or pockets, making them easy to carry. They offer protection against scratches and minor impacts, preserving the quality of eyewear.
Are there different sizes available for slim glasses cases?
Yes, slim glasses cases come in various sizes to accommodate different types and sizes of eyeglasses or sunglasses. Some can fit single pairs, while others might have compartments for multiple pairs.
What materials are slim glasses cases usually made from?
Slim glasses cases are commonly made from materials like microfiber, leather, fabric, or hard plastics. These materials provide a balance between protection and portability.
How does the cost of a slim glasses case compare to traditional cases?
Slim glasses cases can vary in cost depending on the materials and brand. Generally, they might be slightly more affordable than traditional bulkier cases due to their smaller size and reduced material usage.
Can you provide an estimated price range for slim glasses cases?
Prices for slim glasses cases can range from $5 to $30 or more, depending on factors such as brand, materials, design, and additional features like extra pockets or closures.
Do slim glasses cases have any impact on the lifespan of eyewear?
Yes, using a slim glasses case can extend the lifespan of eyewear by protecting them from scratches, dust, and minor impacts. It helps maintain the overall quality and clarity of the lenses.
Are there any drawbacks to using a slim glasses case?
One potential drawback is that extremely slim cases might offer less impact protection compared to bulkier options. Additionally, some cases might not fit very large or uniquely shaped glasses.